Jamaica, no problem mon! That's what everyone kept saying to me from the moment I arrived on this vibrant island. Where the sand and sun are as bright as the smiles you see on everyone's faces, and you literally do not worry about a ting.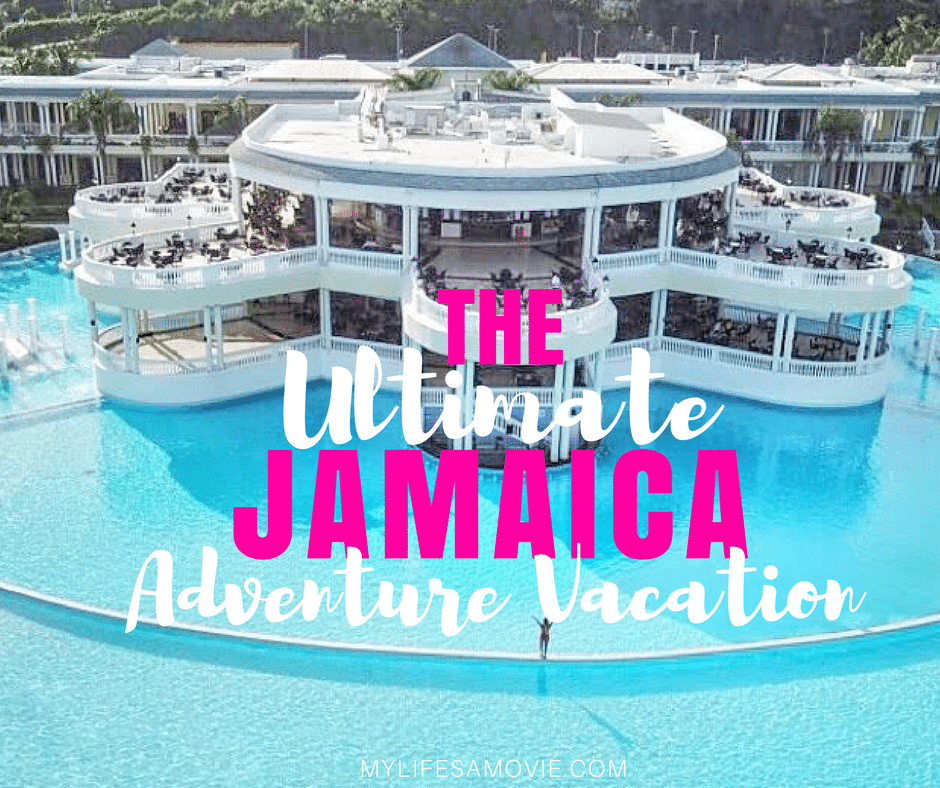 You want a rum punch at 12pm? No problem mon! You want to jump of a cliff? Also no problem mon! You want to relax and shimmy through the crystal clear water of Jamaica's largest infinity pool? Let me introduce you to the Grand Palladium Jamaica and Lady Hamilton Resort.
Where the term "resort" is transformed into "adventuresort" (according to me at least since I made that word up). But nonetheless, it's exactly how I'd describe this vacation destination, because in addition to being a luxurious all-inclusive resort, it's also packed with included adventures, and a prime location that' s an arms length away from even more local activities.
But enough of my gushing, let's get to the juicy details about this luxurious, adventurous vacation!
Stay in Heaven in Jamaica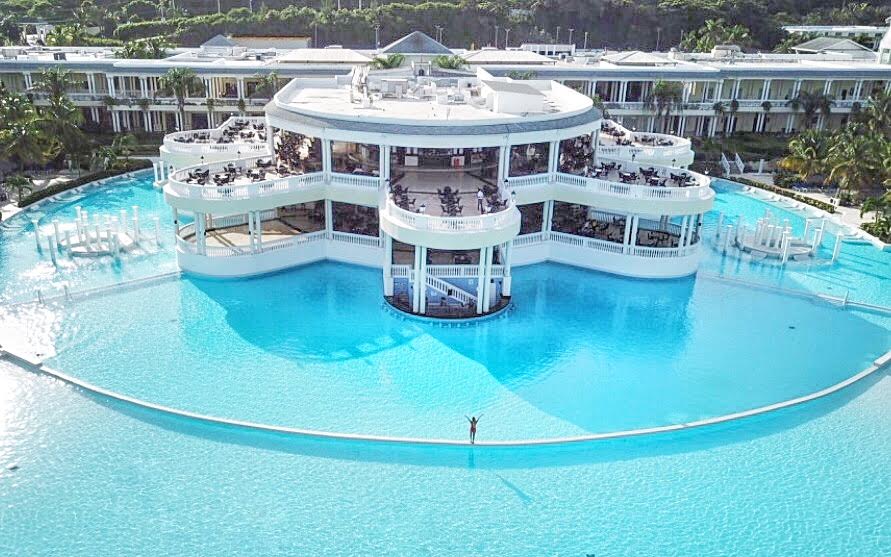 One look at a photo of the Grand Palladium Jamaica and newly renovated Lady Hamilton Resort, and you'll completely understand why I refer to it as "heaven". Massive, pristine white marble lobbies adorned with chic black chandeliers invite you in, and cloud-white Roman pillars protruding up from the sky-blue pool keep you there.
Speaking of pools, there are six of them, including Jamaica's largest infinity pool! Another is the secluded Adult's Only pool, which comes complete with an adjoining Adult's Only beach situated on a beautiful lagoon cove.
But for the kids on vacation (and the kids at heart), there's not only an entire pool area, but a waterpark complete with two waterslides as well!
Don't Worry About a Ting (It's All Inclusive!)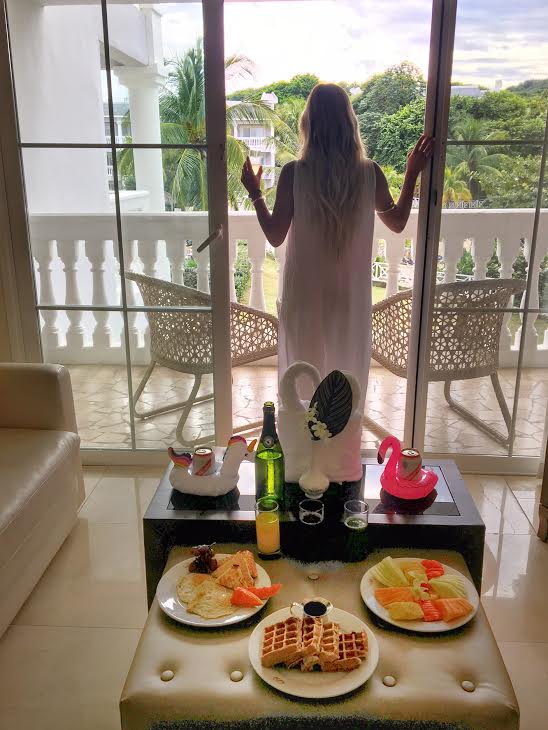 One of my absolute favorite tings about a vacation is if it's all inclusive, and you don't have to worry about costs and budgeting. You pay one price, and from then on, you enjoy your vacation without having to worry about how much any additional charges are going to be.
Breakfast, lunch, dinner, snacks, drinks, non-motorized water sports, shows, clubs, fun — ALL INCUDED!!!! Kind of makes you consider extended your trip, huh?
The only problem that you'll have is deciding which of the six restaurants you'll want to eat at each night! Don't worry, I went ahead and volunteered myself as a test subject, so I can give you some advice!
The Indian restaurant called Bhogali was AMAZING (full disclosure, I'm a HUGE fan of Indian food), and served the likes of Paneer Palek (cheese cubes in a spinach sauce), and shrimp curry, all in their own personal pots set atop of a matching mini-fire pit.
Lotus House served up a mouth-watering Hibachi and sushi dinner that came complete with a performance by the table's chef! And the Italian restaurant had every type of pasta dish and pizza plate that your little heart could desire!
For breakfast I have an equal tie between the majestic buffet at The Blue Lagoon, and the option to have breakfast in bed. The Blue Lagoon overlooks the 180 degree infinity pool on palace-like balconies, complete with a crepe-making station and even a violinist! But it's hard to beat rolling out of your fluffy cloud-like bed, opening your sliding glass doors to see the gorgeous Jamaican sun, and being treated to literally any breakfast item you can think of!
But the food isn't all that's all-inclusive!
Take Your Pick of Non-Motorized Water Sports!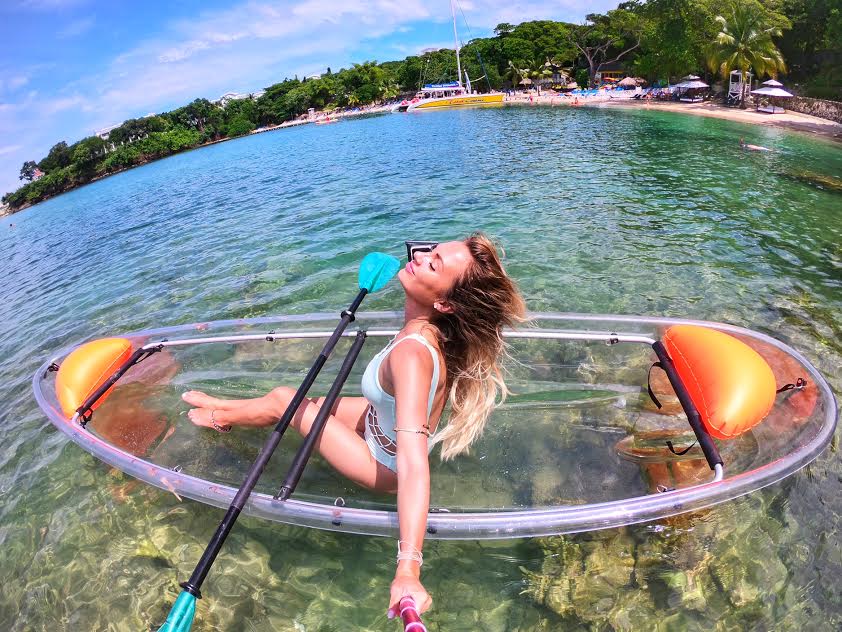 Aside from a full, intense daily calendar of events and activities, the Grand Palladium Jamaica also includes your choice of non-motorized water sports to play around with on its shores!
You can take your pick from paddleboards, mini-sailboats, and even clear kayaks so you can see what's below where you paddle! Yes I tried the clear kayak, yes it was awesome!
If you want to extend your adventure even further than where your legs and arms can paddle, you may also want to consider doing one of the Catamaran cruises! You can do a short sunset cruise, or you can hop on one that takes you all the way to Rick's Cafe!
Speaking of which…
The World Famous Rick's Cafe is Right Next Door!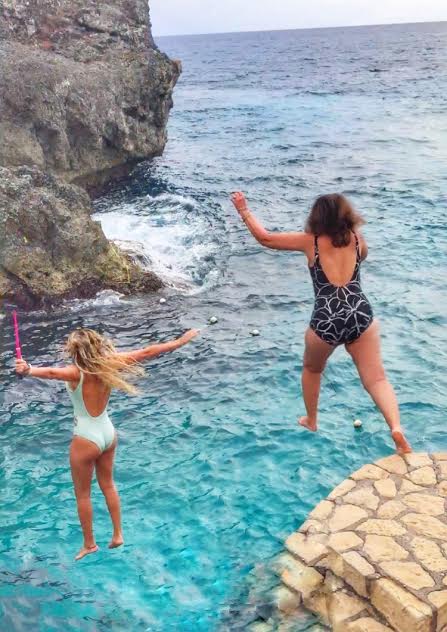 Since the Grand Palladium Jamaica is situated in Montego Bay, you're as close as can be to the World's Number One Beach Bar; Rick's Cafe! What's so special about this particular cafe? It's perched atop a cliff that you're allowed to jump off of…if you dare!
I opted to cliff jump from the higher point, but don't worry, there's plenty of lower points to jump from that are less terrifying. Even my mom took a leap into the bright blue water below! Since Rick's Cafe is quite the popular destination, expect it to be fairly crowded, but definitely worth the experience!
Immerse Yourself in the Local Culture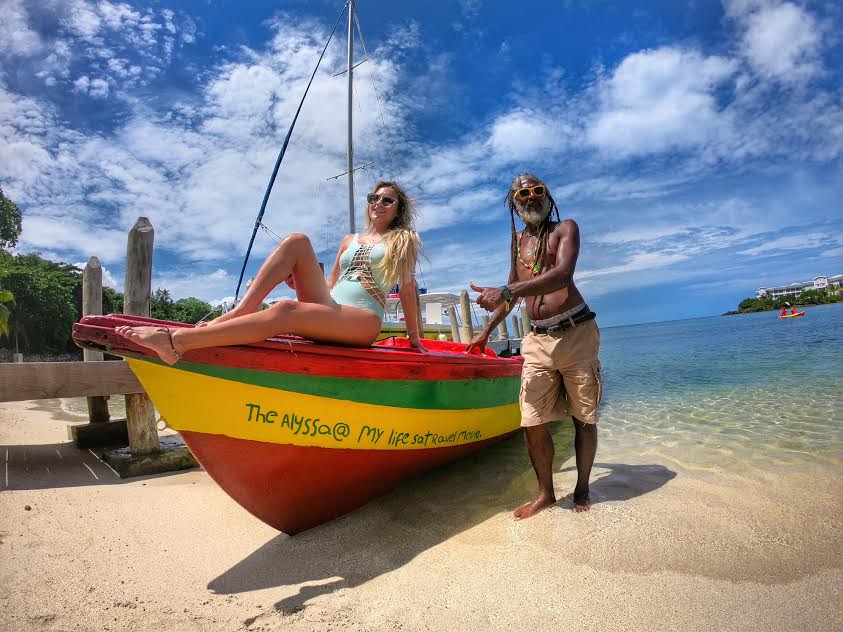 One thing you'll notice right away in Jamaica, is how friendly and happy the local people are! From the constant reminder that there are No Problems in Jamaica, to the radiant smiles and greetings as you pass by! But don't limit yourself to only sticking around the resort to experience local culture when there is so much to be seen just outside of it!
From the neighboring local village of Lucea where you can get hand painted local crafts (or in my case, a boat!), to the rolling green hills ten minutes away where you can ride horseback through the main groves. There's so much culture to experience and appreciate, which will only enhance your Jamaican adventure!
So what are you waiting for? Start planning your awesome Jamaica adventure vacation at the Grand Palladium Jamaica and Lady Hamilton Resort today!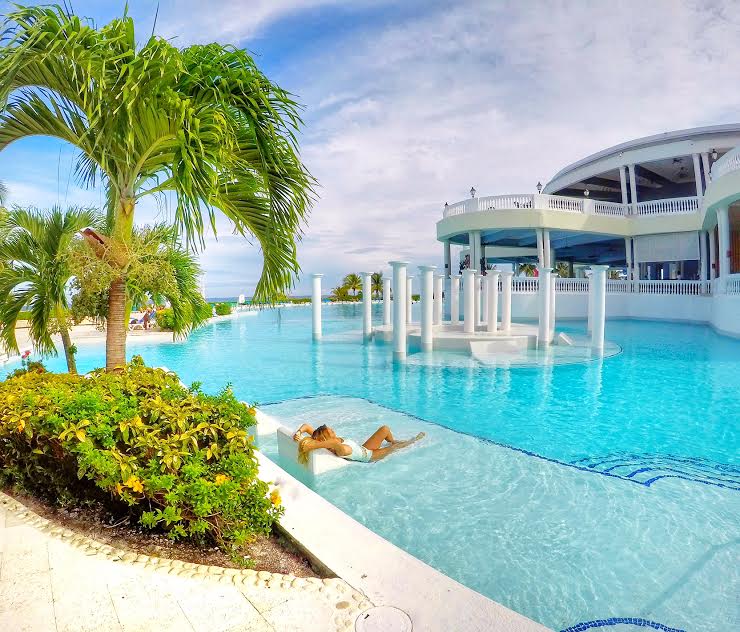 Disclaimer: this post is in collaboration with Palladium Hotel Group, however all experiences, opinions, photos, writing, and fun times are my own.