Yes, the Swimming Pigs of the Bahamas DO exist! It's quite a site to see because it's not every day you see a 300 pound pig swimming gracefully in the crystal clear waters of the Bahamas! But it's true, they will swim right up to your boat if you have food to feed them, and have even become friendly from interacting with so many visitors!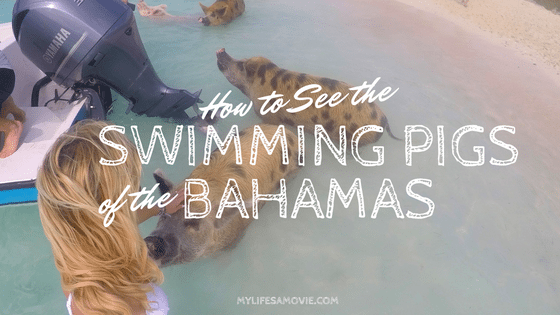 I know some (negative) people might say, "Meh, it's just a tourist trap." But I mean…if it wasn't, those adorable and very plump piggies would be someone's dinner, but instead they get to live freely on their own tropical island. I also heard a few comments about the pigs getting sunburned, however the majority of the island is covered in low brush that they hide in when they aren't being fed on the beach. Overall, as a vegetarian, I would much rather see pigs on a beach than pigs on a plate!
Anyway! You're probably here to find out how to see the swimming pigs of the Bahamas, so let's just get to that, shall we?
Where Are the Swimming Pigs?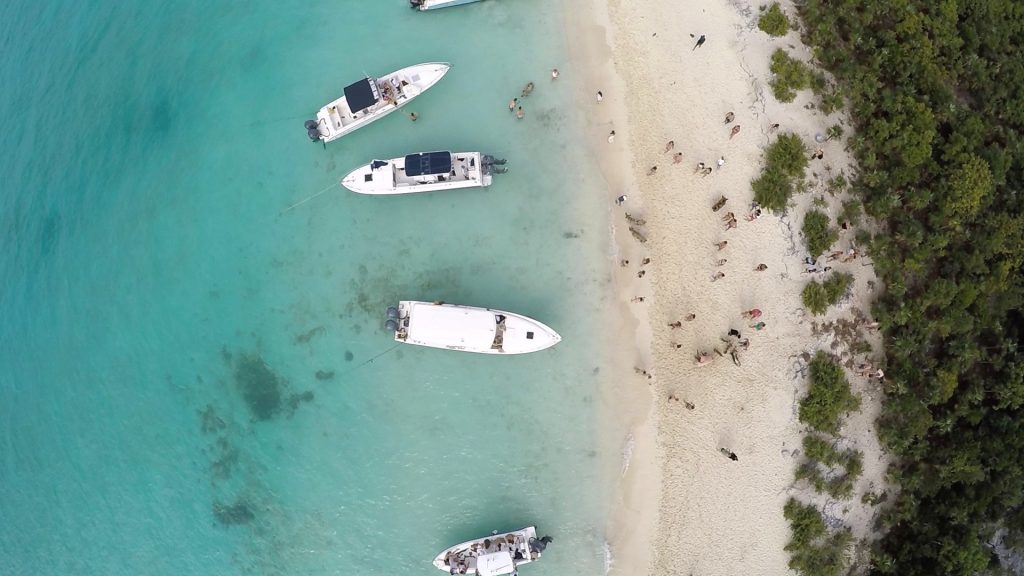 The swimmings pigs are located in the Exuma, which is a district of the Bahamas with over 350 islands. The popular island that you can stay at is Staniel Cay, but the pigs are on Big Major Cay AKA Pig Beach or Pig Island. It's an uninhabited island except for the swimming pigs.
Since the island is uninhabited, that also means there's no airstrip for planes to land, and that you need to take a boat to get to it. Staniel Cay is the closest island with an airport, and you can either rent or hire a boat from there to get to Pig Beach. More on how to get there in a sec.
There is also a very small island/cay in Abacos near Green Turtle Cay that has a smaller population of pigs, although they didn't really seem too excited to swim when I was there.
How Did Swimming Pigs Get There?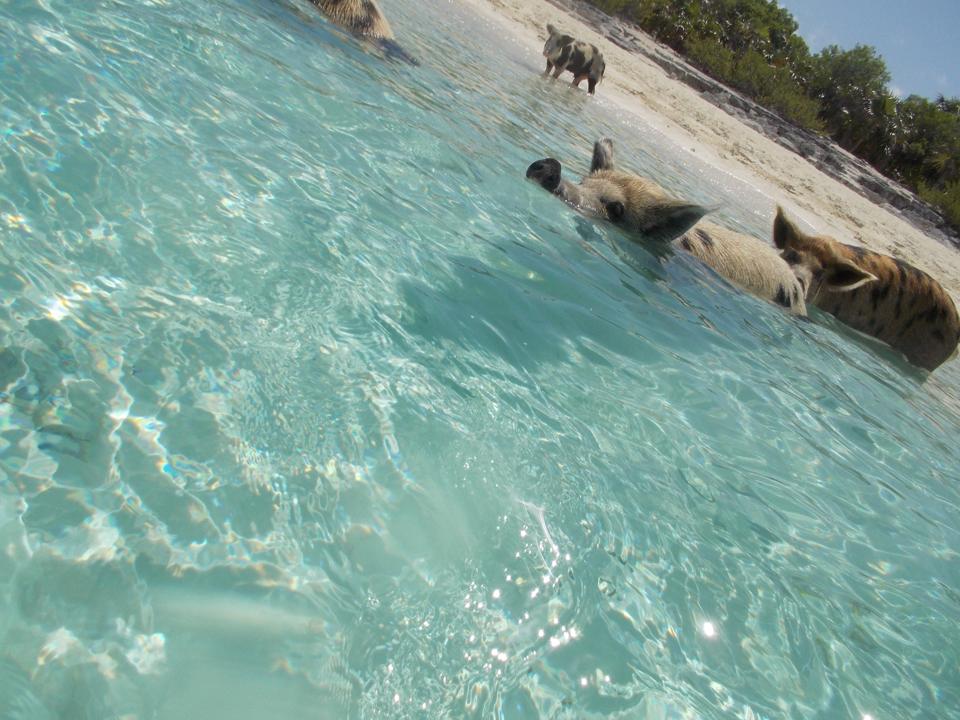 They swam, duh. Just Kidding. There are a few legends on how the small colony of swimming pigs ended up in paradise; one is that they were dropped off on Big Major Cay by a group of sailors who wanted to come back and cook them, but never made it back for unknown reasons. Another is that the pigs survived a shipwreck and swam to shore.
Then there's obviously the suggestion that the pigs were brought there as part of a business scheme to attract tourists, but considering it's one of the most beautiful places in the Caribbean anyway, I find it slightly hard to believe that. I think it was definitely an accident, and then smart people capitalized on it by marketing the Swimming Pigs as an attraction. Technically no one really owns them, and it's free to go see them (aside from the massive costs to get there) so the only ones who really profit from them are the local companies…which isn't such a bad thing, right?
Of course there are some non-locals profiting from the piggies by starting a business in Staniel Cay, which is smart, but, I say stick to the local businesses!
Do The Pigs Really Swim?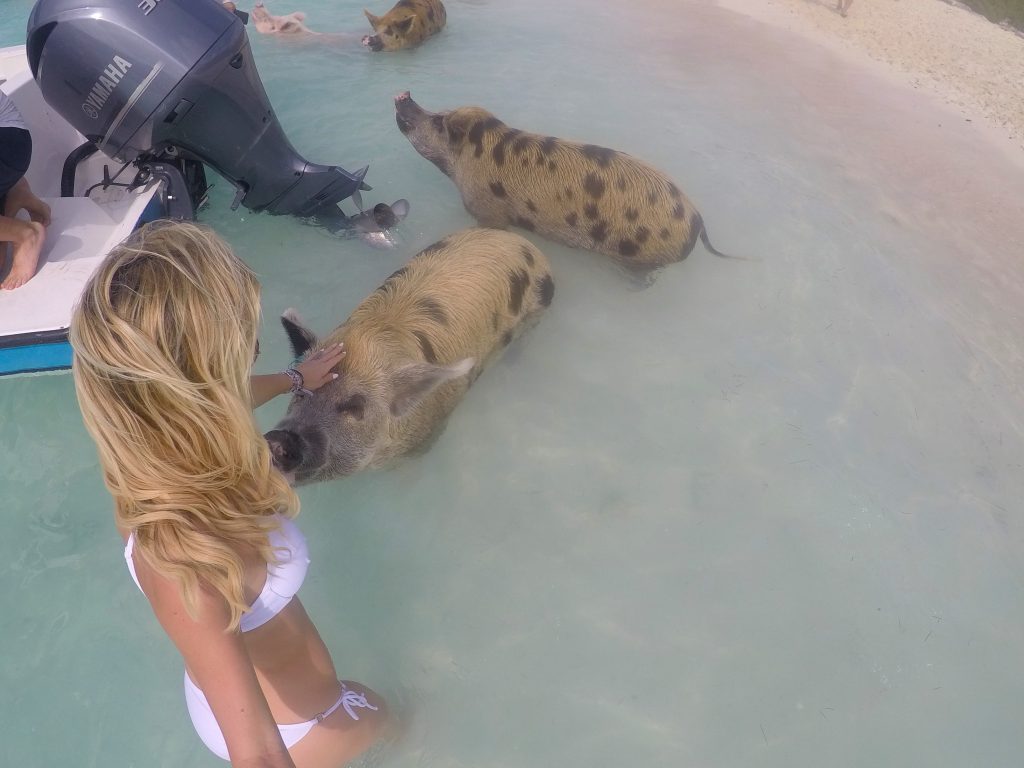 Yes. They are pigs. Pigs like to eat. So the pigs will do what it takes to get to the food, which they know comes from the boats. They seemed to maneuver in and out of the water like it was effortless…like a truck that automatically turns into a boat once it hits water.
Another interesting thing I noticed was that the pigs automatically open their mouths and wait for you to toss the food in. There was the occasional forward pig that would keep coming closer and closer, but most of them were very…polite? And sat and waited with their mouths open!
Be careful with your fingers though, they do have teeth, and while they don't get aggressive because you're on their property, they do REALLY want that piece of bread that you're holding.
Oh and food for thought…since we know the pigs can swim…isn't it funny to think about why they haven't swam to leave their island?
How to Get to Pig Beach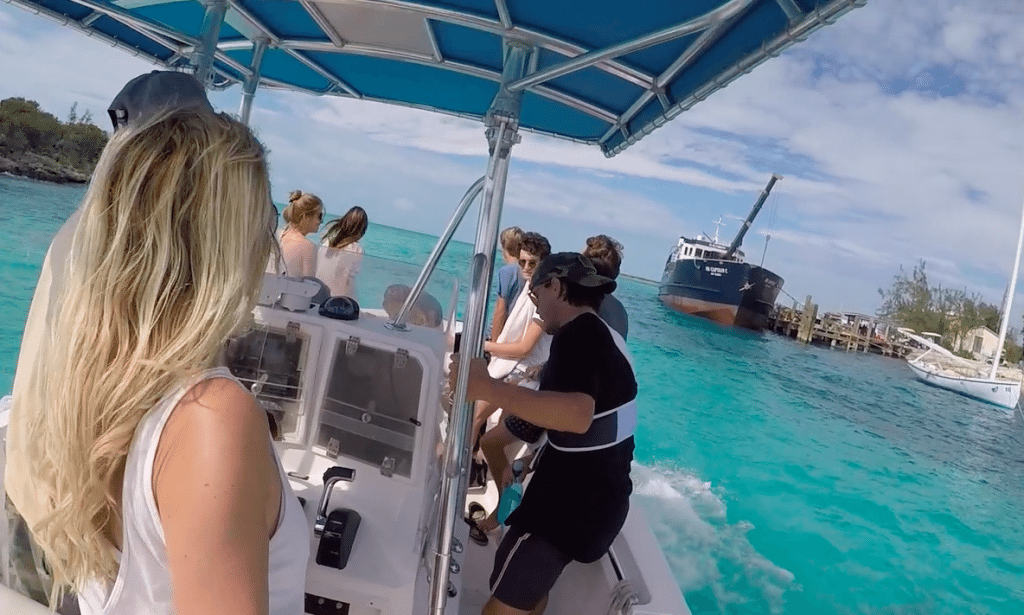 As I mentioned, Pig Beach is on a small, uninhabited island in the Exuma area of the Bahamas, and you need a boat to get there. But before you even start thinking about the boat part, you also need to think about how you're going to get to the island. commercial flights do not operate to Exuma, so you need a charter plane, which can get pricey.
There's regularly scheduled flights to Staniel Cay from Ft. Lauderdale, which you can find and book here: Watermaker's Air
You can also technically get there by yacht/catamaran, but it'll be super expensive, but that info is here.
If you're doing the flight into Staniel Cay, and want to rent a boat for the day, they start at around $250 for a small 17′, and go up to $800-1000 for a 24′ boat with a captain (which you need if you haven't been there before).
The company I used was Staniel Cay Boat Rentals, and there's also Wheels and Waves that has around the same prices.
Where to Stay in Staniel Cay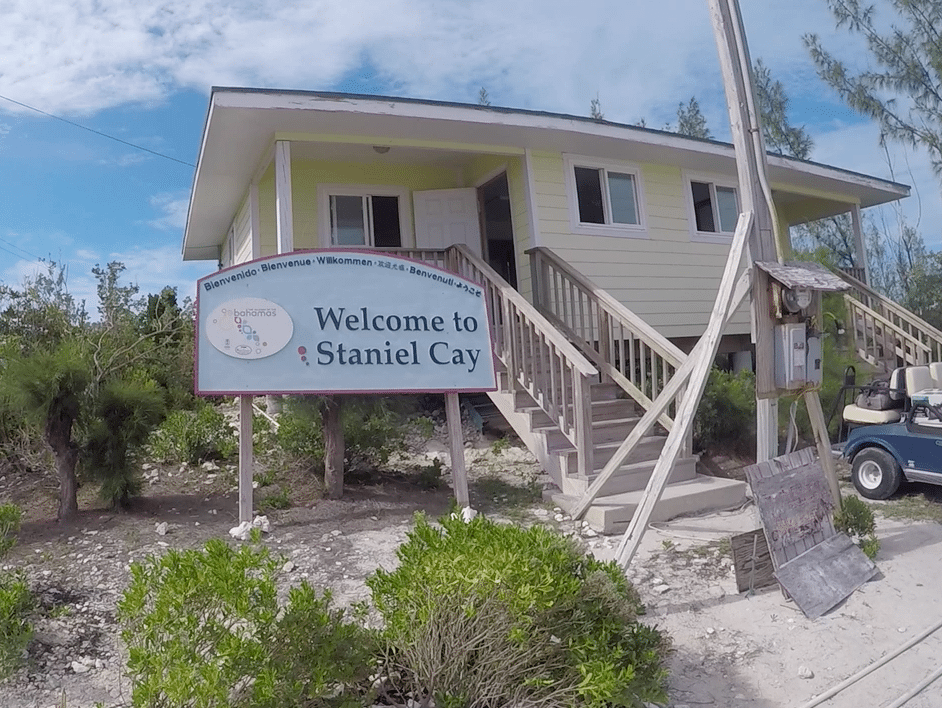 I actually stayed in Nassau and flew from there to Staniel Cay, where we rented the boat for the day, then flew home afterwards. But my second option was to stay somewhere closer to Staniel, that was still somewhat affordable.
There are a couple small hotels on the actual Staniel Cay island, but they're all super expensive. Oh, and there was one who I reached out to to see if they'd be interested in doing a collaboration with me, and the girl quite nastily told me I wasn't famous or well-known on Instagram enough to be worth the cost of one of their nights there. So yeah, DON'T stay at Staniel Rents!
The best option I found was using AirBnB, the prices are pretty good, especially if you have a few people going, since a lot of the properties are 3 or more beds. If you also look a little bit South around Black Point (use the initial search term 'Staniel Cay') they're a bit cheaper as well. Also be sure to read the reviews, because a lot of them mentioned that the host helped them arrange the boat to Pig Beach!
What Can You Feed the Pigs?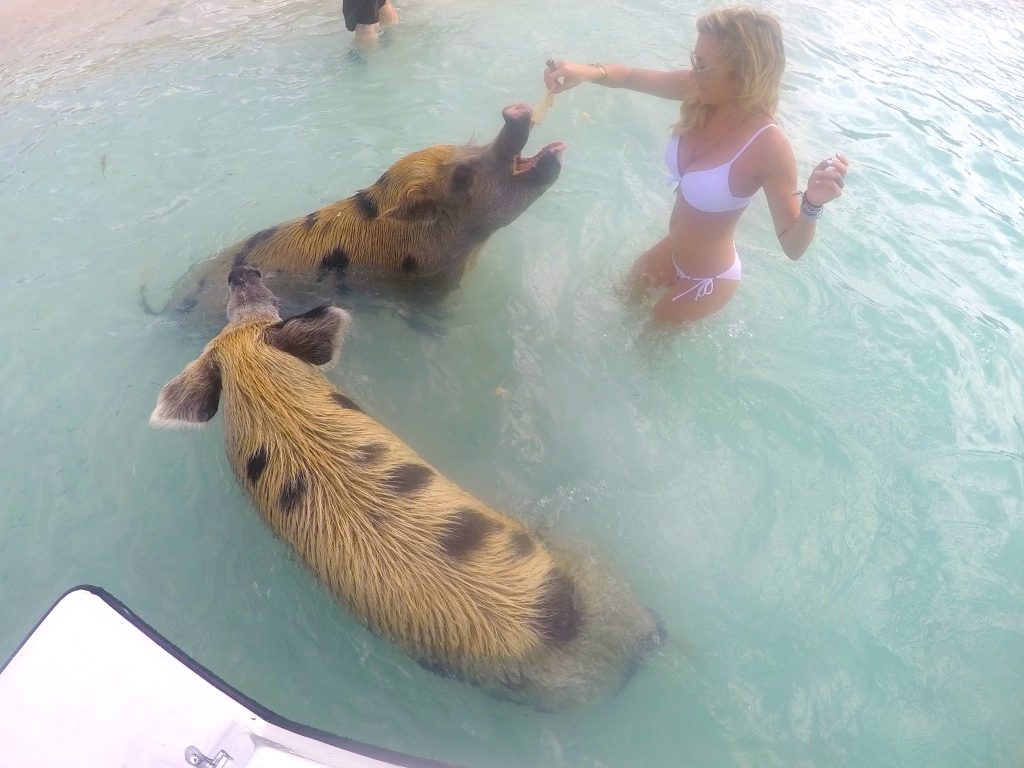 Like regular pigs, the Swimming Pigs will eat pretty much anything. These are not wild pigs. They did not grow up eating leaves and..whatever else wild pigs eat. Actually, if it weren't for the people who bring them food every day, I'm pretty sure they wouldn't survive because there's literally nothing for a pig to eat on an island.
Anyway, when I went, our boat captain stopped at the Staniel Cay Yacht Club to pick up some scraps for us to feed the pigs. It was mostly slices of bread, and a couple pancakes which they REALLY loved. I was thinking of going the healthy route and feeding the pigs some fruits and veggies, but the one piece of food I kept seeing in the sand (AKA un-eaten) was carrots, so scratch that idea.
Other Things to do in Exuma
I'm not gunna lie, you'll probably only want to spend half an hour on Pig Beach, because once you run out of food, the pigs will want nothing to do with you. The good news though is that Exuma is freaking beautiful, and aside from swimming in its clear turquoise waters, there's quite a few other things to see as well.
Thunderball Grotto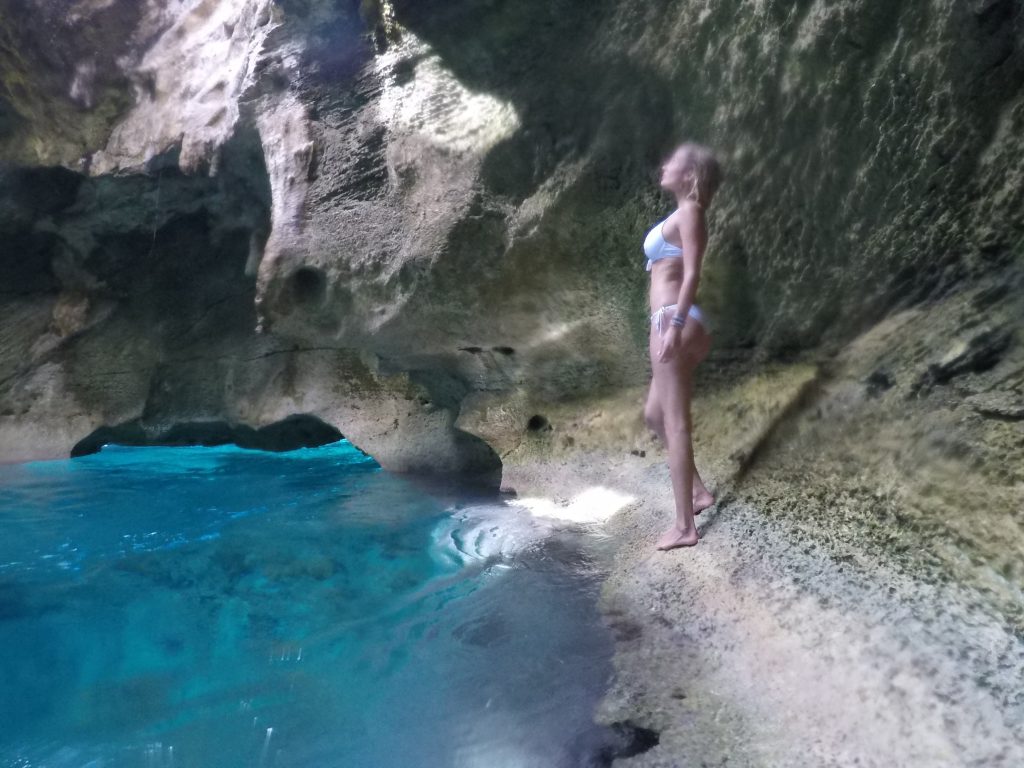 Famous for being a filming site in a James Bond movie, and equally as impressive if you're not a movie buff. It's literally one big island cave with a couple holes on the top of it that allow light (and brave jumpers) through to the bright blue water below. Getting inside of Thunderball Grotto is quite the adventure, and sometimes requires you to swim under the rock walls to get inside.
Definitely be sure to wear a mask so you can see where you're going, and be careful of the current that rushes out at the opposite end. I actually would not recommend trying to go inside if you're not a good swimmer, even I got sucked into the current, and was slightly terrified holding my breath to swim under the rock wall at the exit (probably about 9-10 feet wide).
Compass Cay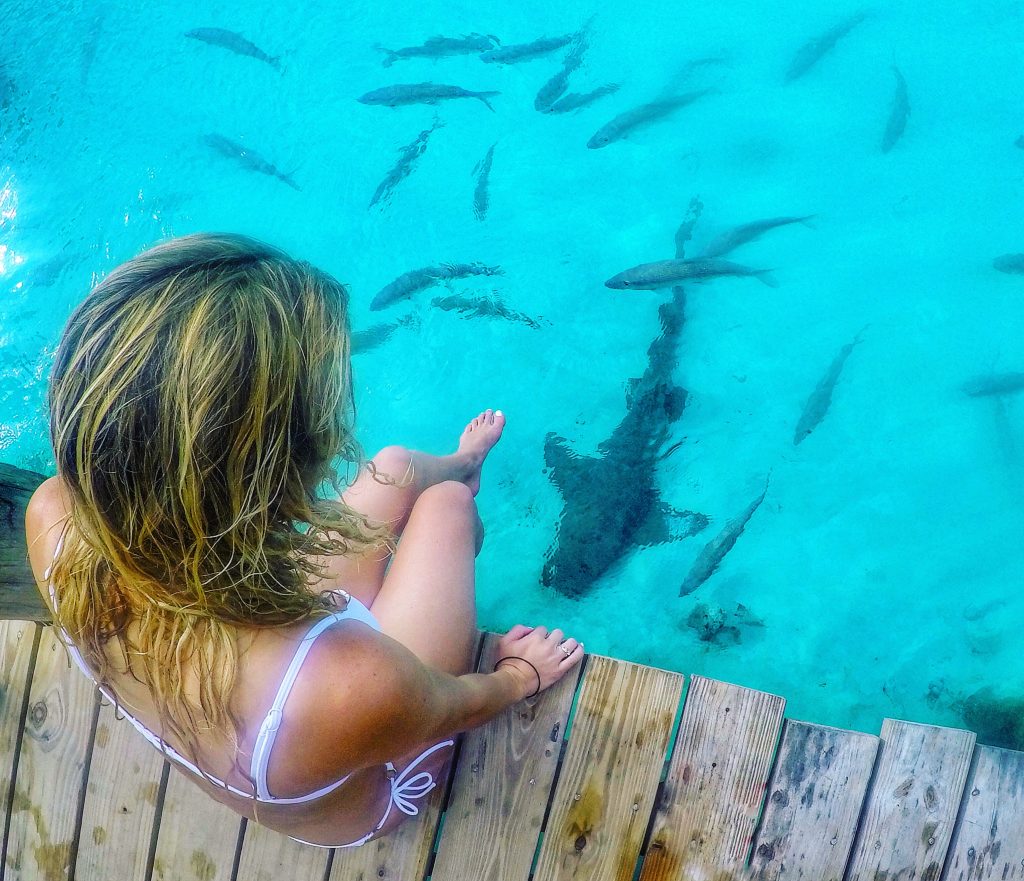 This tiny little local island is about 25 minutes from Staniel Cay, but is well worth it if you've ever dreamed of swimming with sharks, and not getting bitten. Compass Cay has a shallow marina area that has become home to dozens of nurse sharks, who are also hand fed, and thus, now friendly to pet and swim with.
I shit you not, these sharks wanted to be pet. One literally swam up on top of my toes and just laid there while I pet its back! I even snorkeled under the dock where there were about ten sharks just hanging out on the sandy bottom, ranging in size from 4-6 feet!